Golden Drum welcomes Little Black Book as its Global Media Partner
Little Black Book, one of the fastest growing marketing communications platforms worldwide, has been announced as The Golden Drum's global media partner for the year ahead.
Having launched in 2010, Little Black Book's aim has always been to ensure the best creative work from across the globe is accessible to everyone in the industry. With no paywalls or restricted content, the platform offers readers a complete view of the industry on both a global and local scale, across brand, agency, production, and post.
For LBB, The Golden Drum is an incredibly respected show within the Central and Eastern European region - a market that deserves to be seen and celebrated on a truly international scale. With work from the CEE region often struggling at global awards - and as local festivals and face-to-face events are impacted by Coronavirus restrictions - it is more important than ever to showcase the market's excellent creative output. This year, LBB is proud to support this work beyond the CEE region, promoting it internationally to readers from across the globe.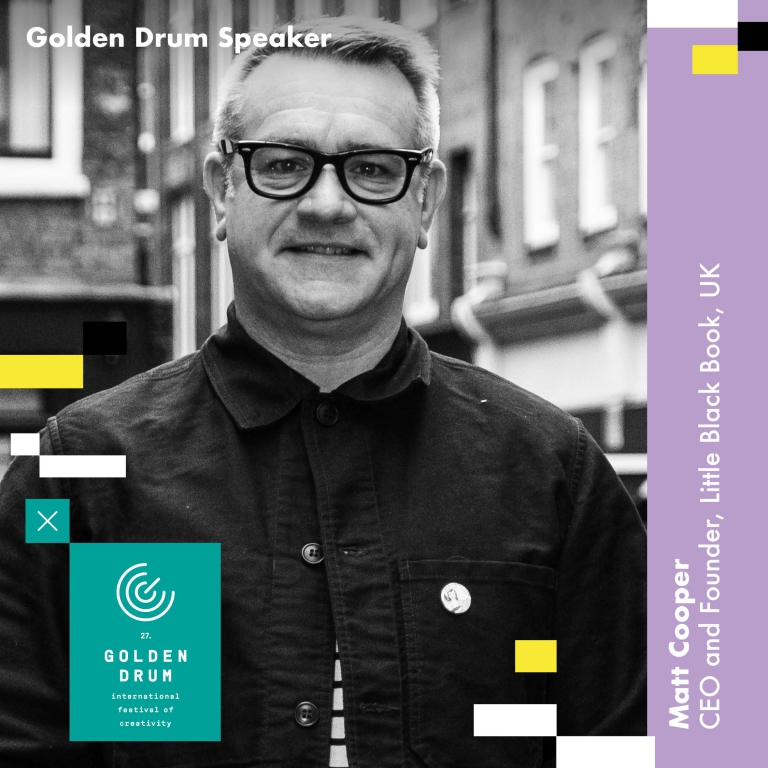 Matt Cooper, CEO of Little Black Book, comments: "I believe The Golden Drum and LBB share a very similar approach. Our goals are to celebrate great creative work and to promote those who are doing something really special - going that extra mile. The CEE region is a growing market for us, and one that we would very much like to support. Awards and events have always been a vital part of our industry and it's especially important now to support and celebrate them, so we're really proud to be the global media partner for this wonderful show."
Every Grand Prix Winner at The Golden Drum to be Entered Directly into Immortal Awards

Little Black Book's partnership with The Golden Drum will see all Grand Prix winners entered directly into the relevant regional competition of The Immortal Awards. The company that has entered the winning work receives a complimentary membership to Little Black Book (with a value of £1000) that will allow them to enter the Immortal Awards as well as offering them the opportunity to take advantage of all that Little Black Book offers.
The Immortal Awards has quickly become one of the toughest international awards to win. In each of the competition's first three years, only four projects have picked up an Immortal Award, meaning there have only ever been 12 Immortal Awards handed out.
The Immortal Awards have been formed around a few key points of difference. Firstly, the competition is free to enter for all members of Little Black Book. It does not award by traditional category or medium, instead very simply celebrating incredible ideas that are exceptionally executed. Introduced in 2020, it has a series of regional competitions - one each for North America, Latin America, Europe, Asia Pacific and Middle East & Africa - with dedicated regional juries deciding which work is the best from their respective region. The regional Finalists then go on to a final, global jury who discuss the local nuances of the work and decide which projects, if any, they will award Immortal or Commendation status too.
Little Black Book will also host a showcase of The Immortal Awards 2020 winners, including a short screening of the four Immortal winners and five Commendation recipients, reveal the most awarded companies in the world from the League Table of Creativity and delve into some of the year's trends, which will be available to keep via a free whitepaper for all those who attend.
Little Black Book to Host Roundtable on Rise of Independent Agencies
As part of Little Black Book's global media partnership with The Golden Drum 2021, the global marketing communications platform will be hosting a roundtable as part of this year's programme. Focusing on 'The Rise of Independent Agencies in 2021', a panel of game-changing independent agencies will discuss why they believe this new trend of agency leaders creating new companies is happening - and what they may offer the current market.
LBB has always focused on supporting companies of any size, offering a platform to all those in the industry and keeping on top of trends and developments that will shape the future of marketing and advertising. As we currently work through a truly formative time for the creative industry - and the world itself - LBB will continue to spearhead conversations and discussions on key topics affecting the industry on both a global and local scale.
The panellists for 'The Rise of Independent Agencies in 2021' will represent a wide range of global independents who are keen to discuss the model, what it means, and why it could potentially help the industry as a whole. Hosted by LBB's CEO Matt Cooper, the line-up is set to be announced shortly.